Keeping Teeth Straight After Adult Braces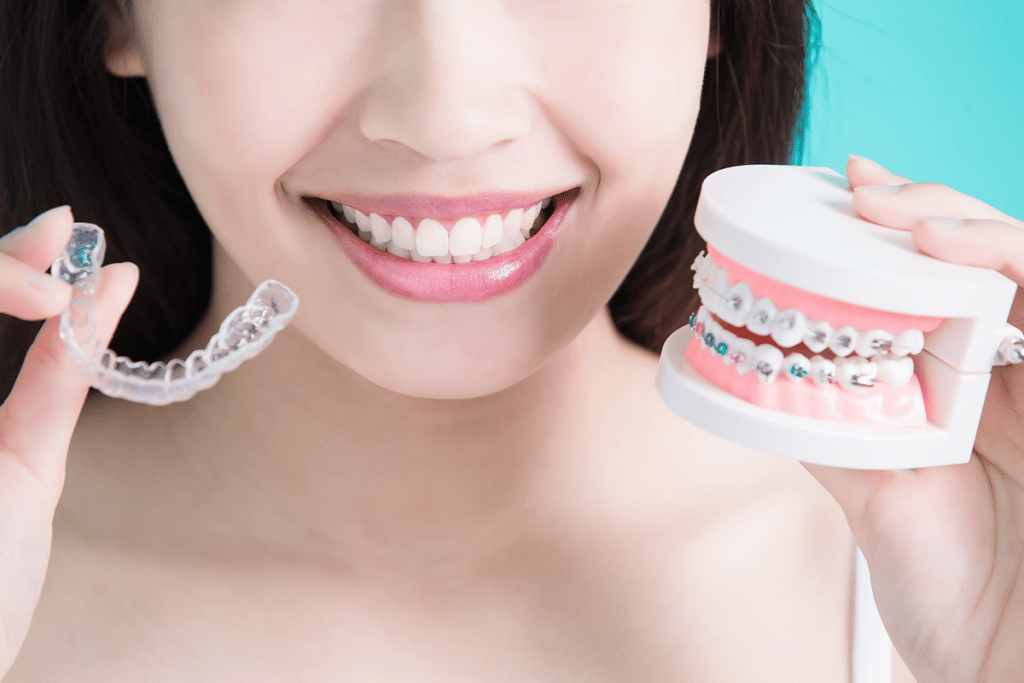 Adults who opt to correct problems with their bite (malocclusion) or misaligned teeth with orthodontic treatment must wear their retainer as instructed to keep their teeth straight. Fortunately, adults who follow the advice of their orthodontist will have excellent retention results lasting a lifetime. Here's what to know about keeping your smile straight after braces, or Invisalign.
Retaining Your New Smile
Once you've completed your treatment with braces or Invisalign, you'll need to wear a retainer. There are several types of retainers:
Hawley Retainer
A Hawley retainer may be the first image that pops into your mind when you think of a retainer. Made of acrylic or hard plastic, with a metal wire attached, Hawley retainers are custom-made specifically for your mouth.  The wire will fit over your front teeth and the hard acrylic or plastic will fit snugly on the roof of your mouth, or behind your bottom teeth.  Hawley retainers are removable, and should always be taken out when you eat.
Permanent/Fixed Retainer
A permanent or fixed retainer is bonded to the backside of your teeth, making them invisible to others. Typically made of stainless steel, these retainers may remain on your teeth for your entire lifetime. 
Essix Retainer
An Essix retainer looks a lot like Invisalign alignment trays. It is a removable appliance made of clear, smooth plastic that fits over your top and bottom teeth. You may eat whatever you like as long as you remove the retainer. You should also avoid colored beverages while wearing your Essix retainer, as they can become discolored if you do not remove them. Patients who prefer the nearly invisible nature of Invisalign will enjoy the same virtually invisible appearance of Essix retainers.
Why Do I Have To Wear a Retainer?
It is a fact of life that our teeth move constantly. Though the movements are incremental, the teeth are continuously shifting as the result of:
Pressure from speaking and chewing

Changes to the jaw as you age

Teeth grinding or clenching

Gum disease, which weakens the jawbone
The teeth are inclined to shift even after months or years of orthodontic treatment. The process by which your teeth begin to drift back to their natural position is known as relapse. Fortunately, when worn as instructed, retainers will prevent relapse.
How Long Will I Have to Wear a Retainer After Orthodontic Treatment?
First the good news. You will likely only have to wear your retainer all the time for a short period  after completing orthodontic treatment. At that point, your orthodontist may recommend that you wear it most days of the week. Eventually, you may only need to wear it at night. Ultimately, you'll probably only need to wear it a few nights a week.  
However, for optimal results, and because teeth are prone to shifting even years after orthodontic treatment, you should plan to wear your retainer occasionally at night, indefinitely. 
Braces and Invisalign for Adults in Las Cruces
Orthodontic treatment for adults is more popular than ever. Thanks to more discreet options, including Invisalign and clear braces, adults who want to correct imperfect smiles or bite problems are not limited to noticeable bracket and wire braces. To schedule a consultation for orthodontic treatment at Legacy Smiles in Las Cruces, call 575-522-1500.
Recent Posts
Contact Us
Legacy Smiles Orthodontic Specialists
2701 Missouri Ave Suite D
Las Cruces, NM 88011
Monday | 8:15am-12:00pm / 1:00pm-4:30pm
Tuesday | 8:15am-12:00pm / 1:00pm-4:30pm
Wednesday | 8:15am-12:00pm / 1:00pm-4:30pm
Thursday | 8:15am-12:00pm
Friday | 8:15am-12:00pm / 1:00pm-4:30pm
Saturday | Closed
Sunday | Closed